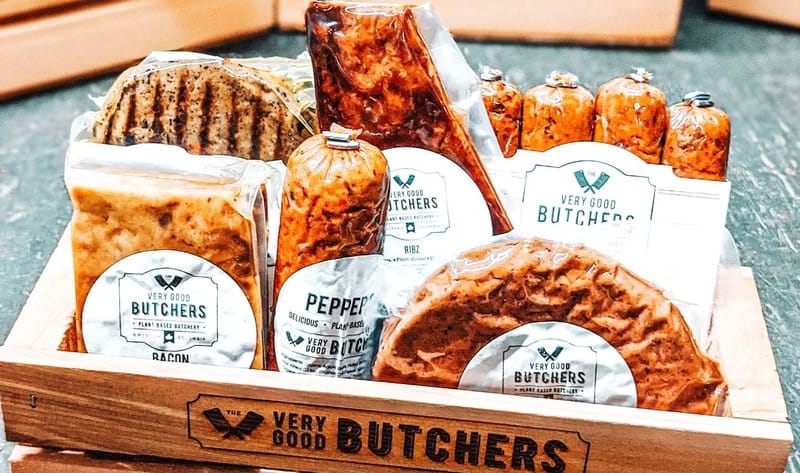 The Very Good Food Company has effectively put the Canadian plant-based meat business up for sale after months of uncertainty surrounding its finances.
Unprofitable since its founding in 2016, the Very Good Butchers and Very Good Cheese Co. brand owner revealed today (8 September) a "process to evaluate potential strategic alternatives to maximise shareholder value".
Potential options could include an "acquisition by, or a merger with, an industry partner involving all or part of Very Good's business or assets", the company said in a statement.
The most recent warning over The Very Good Food Company's financial predicament came in August with the admission the business needed to raise more capital to cover its obligations, despite securing US$6.5m from the market in June.
Signs of trouble first emerged in April with the departure of founders Mitchell Scott (CEO) and James Davison (chief R&D officer), replete with the disclosure of a cash-burn. A statement in May then warned about the potential future viability of the business unless it raised more funds.
"There can be no assurance that the strategic review process will result in any strategic alternative, or any assurance as to its outcome or timing," the publicly-listed business said today.
"Very Good has not set a timetable for completion of the review process and does not intend to disclose developments related to the process unless and until it executes a definitive agreement with respect thereto, or it otherwise determines that further disclosure is appropriate or required."
Any interested party would be looking at a business that has been whittled down over the past few months. Former Nestlé executive Matthew Hall was brought in to replace CEO Scott, and he subsequently scaled down the manufacturing footprint, closing two Canadian factories and one in the US. And in August the company said it was reviewing the sale of "non-core" equipment and inventory as 160 staff cuts were unveiled.
Nevertheless, the shares of Vancouver-based The Very Good Food Company were up more than 15% around 3:40pm British summer time today.
More broadly, signs of a slowdown in the global plant-based meat sector have intensified in recent months. Kellogg announced the potential sale in June of its meat-alternative business, which includes the MorningStar Farms brand, as part of a wider operational restructuring. As far back as last November, Canada's Maple Leaf Foods said it was seeing a "marked slowdown" in the category.
The Very Good Food Company added: "While the strategic review process is ongoing, the company will remain focused on the successful implementation of its three-prong approach to stabilise, right-size, and optimise – first announced in May 2022 – to maintain and enhance the value of Very Good's business and operations."