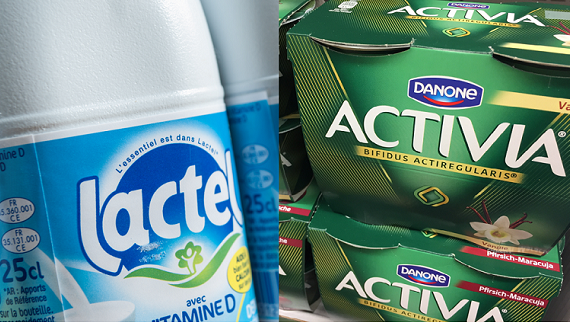 Banking advisers to privately-owned dairy giant Lactalis are reportedly running the rule over a possible takeover of Danone.
French business publication La Lettre A said today (20 April) Perella Weinberg Partners is weighing up Lactalis pursuing a full acquisition of its French peer or a bid for a clutch of the Activia maker's assets.
The report said Lactalis, the world's largest dairy company by annual sales, had been mulling a move for months.
Danone today published its sales results for the first quarter of 2022. Asked about Lactalis's reported interest in a call with analysts, Danone CFO Juergen Esser said: "We are working very actively to fix our under-performing assets. We will update you when there is something new."
Approached by Just Food, a Danone spokesperson said the Cow & Gate baby-food maker does not comment on speculation.
A request to Lactalis for comment was unanswered at the time of writing.
Danone, led by recently-installed CEO Antoine de Saint-Affrique, today reported stronger than expected first-quarter sales and kept its 2022 financial goals unchanged.
However, in March, laying out his new strategy to improve Danone's performance, de Saint-Affrique said 10% of the company's portfolio could be up for "rotation".
De Saint-Affrique replaced Emmanuel Faber, who was ousted as Danone chairman and CEO last year after calls from some investors for him to resign over what they saw as lacklustre returns.
Speculation about a possible sale of all, or part of, Danone to Lactalis was greeted warmly by Bruno Monteyne, an analyst at investment bank AllianceBernstein. He said there could be some merit in a tie-up between the businesses.
"It [the newspaper story] was a surprise, and there may be some hurdles – relative size – but, upon further reflection, this deal merits decent consideration and should not be dismissed," Monteyne said.
"The complementarity of their activities could not be better. Both are milk-related companies but with different end products – cheese/liquid milk [Lactalis] versus dairy/infant nutrition [Danone] – making a solid case for material scale benefits in source, manufacturing and distribution.
"It would also provide revenue synergies for Lactalis in the US and China. The lifeblood of any deal is 'does it make sense economically?' and there clearly is a case here."
Monteyne said the initial hurdle seems to be size, with privately-owned Lactalis about 12% smaller than listed Danone in revenue terms.
However, he added: "[Lactalis's] growth rate at 6.1% in the last eight years is materially above Danone's at 1.8%. That growth makes Lactalis the more valuable company, by quite a margin."
In the first quarter of 2022, Danone saw its net sales rise by 7.1% to EUR6.23bn (US$6.74bn), compared with consensus expectations among analysts of a 5.5% rise.
Describing the opening three months as a "good start" to 2022, Esser said: "In line with our Renew Danone approach, we are putting greater focus on the quality of our execution, supported by pricing and mix management as well as sustained productivity efforts."
However, volumes from Danone's dairy and plant-based division declined 1.8% in the quarter. The company cited supply challenges from the Spanish truckers strike and the decision to only supply "essential" products in Russia following the invasion of Ukraine.
Lactalis, which already has a yogurt and desserts joint venture with Nestlé, has been in acquisitive mood in the last 12 months.
In March, the company expanded in Germany through buying assets of dairy firm BMI. Last year, the group acquired milk assets from Brazilian dairy firm Cativa. It also bought the Leerdammer cheese brand from French peer Bel Group.
Family-owned Lactalis has yet to report its financial results for 2021. In 2020, the company generated revenue of EUR21.1bn, up 6% on a year earlier. Some 56% of its revenue is generated in Europe.
However, Lactalis has seen a change at the top of the business this year. In February, CEO Philippe Palazzi is leaving the French dairy giant after only 13 months in the role. At the time, Lactalis noted "the conditions for alignment with the group's strategy could not be met".
Chairman Emmanuel Besnier has effectively taken on the CEO responsibilities – although Lactalis has not said he will hold that title – while long-serving executive Thierry Clément has been appointed to the newly-created role of chief operating officer.
Just Food analysis: Lactalis link to dairy peer Danone raises eyebrows but some see merit