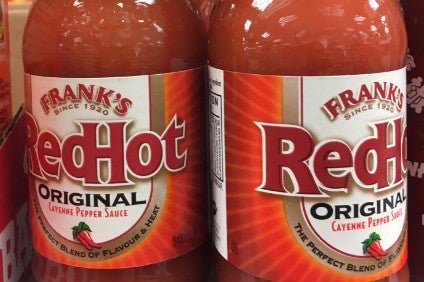 Andy Coyne looks at significant transactions and emerging themes in merger, acquisition and investment activity in the global food sector during 2017.
Arguably the biggest deals story of 2017 was one that didn't actually happen.
In February, it became clear Kraft Heinz from the US was making an unsolicited bid for Anglo-Dutch giant Unilever, a move that stunned the sector – and one the Magnum and Knorr maker rebuffed.
Unilever asked for UK takeover rules to be changed as a result but the interest from Kraft Heinz seemed to prompt the FMCG group to conduct an analysis of its own structure, which led in April to the news it would look to improve its margins and exit the spreads category through a sale or a demerger – which, at the time of writing, has yet to happen, although an announcement should be made in the early weeks of 2018 at the latest.
Another mooted deal yet to be announced is Nestle's sale of its US confectionery arm, despite reports of interests from a number of would-be suitors.
Plenty of deals were done in 2017, however, and a number of themes emerged.
A series of meat businesses, eyeing consumers wanting more premium cuts and alternatives to meat, used M&A to buy organic meat suppliers and to acquire meat-free companies.
In January, meat giant Danish Crown acquired German beef processor Teterower Fleisch in a deal it said would make it a "major player" in the North European market for organic beef. A month later, Canada's Maple Leaf Foods agreed to acquire US plant-based protein manufacturer Lightlife Foods in a US$140m deal.
Perhaps the headline-grabbing deal of January took place Down Under with Mondelez International selling a clutch of Australian and New Zealand brands to Australian dairy group Bega Cheese – including the iconic Vegemite – for US$346m.
In February, US infant nutrition company Mead Johnson confirmed UK consumer business Reckitt Benckiser's takeover bid while Hain Celestial from the US added to its UK soup portfolio – which already included New Covent Garden Soup Co. – with the acquisition of Yorkshire Provender.
Also looking to the US market was French produce supplier Bonduelle which struck a deal to acquire US peer Ready Pac Foods, making the country its largest market.
In March, Italian confectioner Ferrero boosted its presence and product line up in the US by buying the Fannie May Confection Brands for US$115m while America's Conagra Brands entered into a deal to buy local business Thanasi Foods, which produces meat and seed-based snacks under the brands Duke's and Bigs.
Protein of any kind was becoming a hot M&A ticket.
Meanwhile, in a transaction that had its origins in 2016, French dairy giant Danone agreed a deal with the US regulator to sell its American organic unit Stonyfield to facilitate the smooth passage of its earlier deal to buy US food and beverage group WhiteWave Foods for US$12.5bn.
In April's big transaction, Post Holdings of the US secured a deal to buy UK cereal maker Weetabix from its Chinese owner, Bright Food Group, for US$1.76bn.
US meat giant Tyson Foods, meanwhile, moved to buy US convenience food group AdvancePierre Holdings in a deal worth US$4.2bn.
And, just days after announcing plans to exit spreads, Unilever, after spending years shedding a series of food assets, made a rare move: adding to its foods division through M&A. The Hellmann's mayonnaise owner bought fledgling US condiments maker Sir Kensington's.
In May, US milk giant Dean Foods, in another example of an animal-protein centric business eyeing protein alternatives, acquired a minority stake in dairy-free 'upstart' Good Karma Foods, while Turkish wholesaler Anatolia made an acquisition in the UK, buying dried fruit, nut and seed products business Whitworths.
Meanwhile, the UK's Hilton Food Group made a lateral move by investing in UK firm Foods Connected, which provides software to analyse prices and conduct quality checks.
In June, the deal that had everyone in the food industry talking was one between retailers. Online giant Amazon's acquisition of US health foods grocer Whole Foods Market is certain to have repercussions for food product suppliers moving forward.
June was the month in which Nestle announced it was reviewing its options over its US confectionery business – a move followed days later by the first significant investment made under new CEO Mark Schneider. Nestle acquired a minority stake in US online meal-kit service Freshly, the latest investment a packaged food major had made in the up-and-coming channel.
In July, we had further confirmation that manufacturers of ambient foods sold in the centre aisles of US supermarkets were looking for growth in chilled, fresher categories when Campbell Soup Co. acquired natural food group Pacific Foods for US$700m But because of a threat of legal action, the deal would not complete until December.
Another buoyant growth on both sides of the Atlantic is popcorn, which explained why German snacks business Intersnack – which owns KP and Pom-Bear – bought the UK's largest popcorn brand.
The big deal of the month – and so far the year – in financial terms was McCormick & Co. announcing it was acquiring Reckitt Benckiser's food division – including French's mustards and Frank's RedHot sauces – for US$4.2bn.
And the sale by Danone of Stonyfield was finally agreed when fellow French dairy business Lactalis agreed to pay US$875m for the US organic business.
In August, in another deal indicating large food businesses looking in new directions, meat processor Smithfield Foods, owned by China's WH Group, invested US$25m in Chef'd, a US meal-kits business. Campbell Soup Co. also invested US$10m in the business.
That month, US confectionery giant Mars signed an agreement to buy US ethnic cuisine business Preferred Brands International, which sells Indian and other Asian food mainly under the Tasty Bite brand.
September was a big month for deals. The world's largest food manufacturer, Nestle, got on-trend with the acquisition of US plant-based food maker Sweet Earth.
Another food giant, US chicken business Pilgrim's Pride, meanwhile, bought UK poultry and prepared meals firm Moy Park from its own major investor JBS for US$1.3bn.
And Post Holdings, which had bought Weetabix in April, spent another US$1.5bn on buying chilled and frozen food maker Bob Evans Farms.
Finally, another popcorn brand was snapped up. US business Angie's Artisan Treats, owner of the Boomchickapop brand, was acquired by Conagra Brands.
October was another busy month. Unilever announced it was acquiring Brazilian natural and organic food business Mae Terra while Kellogg paid US$600m for the RXBAR protein bar company.
UK meatpacker Hilton Food Group made a move into seafood with the widely anticipated acquisition of Icelandic seafood business Seachill for US$106.3m.
And the long-running Murray Goulburn auction appeared to have come to an end when the struggling Australian dairy business accepted a US$1bn takeover offer from Canada's Saputo. However, with Saputo already having extensive operations in Australia, the deal still needs to be approved by the country's regulators.
US company Hormel Foods added to its portfolio again with a deal to buy local deli meats and salami producer Columbus for US$850m.
In November, New Zealand dairy giant Fonterra became the latest in its sector to look at its product offering by taking a stake in US whey protein business Columbia River Technologies.
Meanwhile, in South Africa, Pioneer Food Group bought out Kraft Heinz's 50.1% stake in their joint venture business Heinz Foods SA.
And, towards the end of November, Mars made another striking investment, buying a chunk of US snack bar maker Kind, a business that has been one of the best examples of how, in recent years, upstart brands have grabbed sales from established players in the country.
Into December and US natural and organic products group Hain Celestial – itself linked with a possible takeover bid by Nestle – acquired UK syrup maker Clarks from management.
And meat giant Tyson Foods upped its stake in Beyond Meat, which specialises in plant-based meat substitute products. Tyson first took a stake in the business in December 2016 – a further example of Big Meat reacting to growing demand for alternatives to meat.
The year ended, as it began, with major players in the food sector buying into businesses reflecting fast growing food trends.