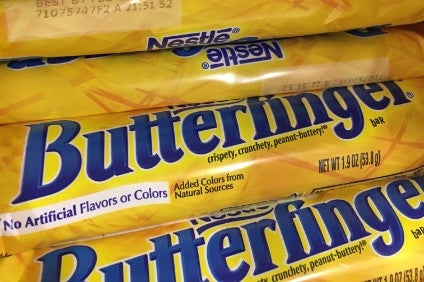 Andy Coyne looks at significant transactions and emerging themes in merger, acquisition and investment activity in the global food sector during 2018.
Jockeying for position is the phrase that springs to mind when looking through this year's deals activity in the food industry.
Whether it be snapping up – or investing in – smaller, disruptive businesses providing a way into hot categories such as better-for-you or plant-based or selling off assets to become a more focused, streamlined business, Big Food has been shaping up for the future.
Many of the notable deals this year would reflect this refocusing and prove once again that a unit unloved by one business is just what someone else is looking for.
In January, this was evident straight away when Italian confectionery giant Ferrero bought Nestle's US candy arm for US$2.91bn, acquiring household name brands such as Butterfinger and Raisinets. Ferrero pointed out the deal, which came just three months after Ferrero bought US sweets firm Ferrera Candy Co., would make it the third-largest confectionery company in the US. Nestlé said the sale meant it could "invest and innovate across a range of categories where we see strong future growth and hold leadership positions"
In the same month, on the other side of the Atlantic, UK-based frozen food group Nomad Foods announced it had struck a deal to acquire a clutch of pizza assets – including the Goodfella's and San Marco brands – from Boparan Holdings. Boparan, best known for its 2 Sisters chicken business, was in the business of selling off assets in 2018.
On mainland Europe in January, Swiss food groups joined forces as convenience foods supplier Bell Food Group acquired Dr. A. Stoffel Holding, the majority shareholder in local peer Hügli. Bell said the deal "significantly" expanded its position in the European convenience food market.
After such a dramatic start to the year, there was little sign of a slowdown in February.
One of the most notable deals saw Irish-Swiss group Aryzta selling its US-based Cloverhill bakery business – famous for making the buns for McDonald's burgers – to Twinkies maker Hostess Brands and Bimbo Bakeries, the US arm of Mexico's Grupo Bimbo.
And, in another cross-Atlantic deal, France-based international vegetable supplier Bonduelle acquired the Canadian Del Monte processed fruit and vegetable business from Conagra Brands for $34m. The deal included the right to use the Del Monte brand on processed fruits and vegetables.
In March, US meat giant Tyson Foods, which would spend much of the year re-shaping its portfolio by divesting non-core assets and building up its protein exposure, sold its Circle Foods arm – which markets Mexican-style foods – to Japan's Ajinomoto.
Canada's Premium Brands Holdings, meanwhile, was getting into its stride on a series of acquisitions that would make it one of the year's busiest buyers. In March it acquired four companies for a total of $175m: Concord Premium Meats, The Meat Factory, Country Prime Meats and Frandon Seafood.
And there were a couple of smaller deals in the month that highlighted the appeal of up-and-coming parts of the market, both in terms of product lines and delivery methods.
US-based Aspire Food Group, which specialises in farming insects for food, acquired Exo, a Brooklyn-based company that produces cricket-based protein bars, thus creating a "farm-to-table insect protein company".
And HelloFresh, the German meal kit business, bought US peer Green Chef, saying the move meant it would offer the largest selection of meal plans for consumers, adding Green Chef's organic vegan and gluten-free menus to its own.
In April, much of the talk was of the announcement that UK big four retailers Sainsbury's and Asda were planning to merge and what such a move would mean for the food supply chain. The deal, which would see Sainsbury's buy Asda from US parent Walmart for around $9bn, is still being investigated by the UK's Competition and Markets Authority (CMA) at the time of writing.
South American meat giant Marfrig Global Foods, meanwhile, announced it was buying a 51% stake in US-based National Beef Packing Company for $969m in a transaction that would make the Brazil-based firm the world's second-largest beef producer. Marfrig said the move for National Beef would broaden its geographic reach and improve its balance sheet.
In South Africa, more divested assets were proving popular with the previousl- announced deal for Pioneer Foods to acquire a majority stake in Heinz Foods South Africa getting the go ahead from the country's Competition Commission.
In May, it was all about snacks. Germany's Intersnack announced its acquisition of Hershey's UK-based crisps business Tyrrells. The deal, struck through Intersnack's UK arm KP Snacks, saw Hershey selling Tyrrells just months after acquiring the brand through its purchase of US group Amplify Snack Brands.
Food and beverages giant PepsiCo, meanwhile, had an eye on the healthier eating market with the acquisition of California-based better-for-you firm Bare Snacks.
The Walker crisps and Lay's potato chips owner is understood to have paid less than $200m for the firm which was set up in 2001 by a family-owned organic apple farm in Washington.
Meanwhile, UK-based snack firm
"One of the year's headline deals came in June when Conagra Brands moved for US peer Pinnacle Foods"
Tayto Group acquired the assets of local peer Pop Notch. The family-owned manufacturer of Golden Wonder crisps and Mr Porky scratchings, said it has purchased the brand name, trademark and machinery of Pop Notch.
In June one of the year's headline deals took place when Conagra Brands confirmed it had reached a deal to buy fellow US manufacturer Pinnacle Foods for $10.9bn.
Pinnacle had been under pressure from activist investor Jana Partners, which acquired a 9% stake in April, to sell the US frozen food business. The deal ended months of negotiations that were at one point called off due to differences over price.
The deal brought together brands such as Conagra's Healthy Choice, Slim Jim and Orville Redenbacher's and Pinnacle's Birds Eye, Duncan Hines and Earth Balance.
In the UK, Nomad Foods was on the acquisition trail again, this time snapping up frozen Yorkshire pudding and roast potato brand Aunt Bessie's from William Jackson Food Group in a $281.6m deal.
Canada's Maple Leaf Foods, meanwhile, increased its exposure to organic chicken and chicken raised without the use of antibiotics (RWA) after buying assets including two poultry farms from local business Cericola Farms.
In July, two deals announced earlier in the year which were being investigated by competition bodies were given the all-clear.
Firstly, a move by Ireland's Total Produce to buy a 45% stake in US peer Dole Food Co. secured conditional approval from The European Commission. Brussels said Dole must sell its Swedish bagged-salad business Saba Fresh Cut for the deal to go through. That would happen later in the year.
And, secondly, European dairy giant Arla Foods gained clearance from the UK's Competition and Markets Authority to acquire the liquid milk, butter and cheese business of fellow dairy company Yeo Valley.
Also in July 2 Sisters carried on with its disposal programme with its UK-based red meat assets being snapped up by Ireland-based meat company Kepak Group.
In August, Tyson Foods carried on with its asset disposal programme by selling its pizza crust business TNT Crust to an affiliate of private equity firm Peak Rock Capital.
Tyson was then involved in one of the year's biggest deals by buying Keystone Foods from Brazil's Marfrig for $2.4bn, a deal which fitted with its future focus being squarely on protein. US-based Keystone supplies products from burgers to chicken nuggets to customers including fast food giant McDonald's.
In the UK, meanwhile, Tangerine Confectionery was acquired by Ireland's Valeo Foods Group – a deal which would be cleared by the UK's competition watchdog later in the year. Valeo bought Tangerine from private-equity firm Blackstone to further increase its growing presence in confectionery.
In September, UK-based private-label heavyweight Bakkavor acquired the Haydens Bakery business from fellow UK firm Real Good Food for $15.5m.
Liverpool-based Real Good Food had suffered from cash pressure for some time. It said it will use the money from the Haydens disposal to cut debts.
Meanwhile, Switzerland's Barry Callebaut revealed it was buying the chocolate manufacturing assets of UK-based Burton's Biscuit Co. The B2B giant acquired the chocolate making equipment resident at Burton's factory in Moreton, in the north-west of England. The deal was green-lighted by the UK's Competition and Markets Authority (CMA) later in the year.
US-based agri-food business Cargill made a number of acquisitions in the year. In September it bought Poland's Konspol, a manufacturer of fresh chicken and associated value-added products.
Meanwhile, US confectioner Spangler Candy Co. was confirmed as the buyer of the New England Confectionery Company's most famous brand, Necco Wafers.
Earlier in the month it was revealed that another of Necco's well-known products, the Clark Bar, had been sold to Pennsylvania-based Boyer Candy Co.
In October big food companies were again busy disposing of assets. Kraft Heinz sold off its consumer brands division in India, which include the children's milk drink Complan, to consumer health group Zydus Wellness for $625m while
"To end the year with a bang, Unilever emerged as the winner in the battle to acquire the India-based Horlicks malt drink brand"
Nestlé sold assets in Malaysia to French dairy giant Lactalis for $37.3m. Lactalis took over certain Nestlé operations in chilled dairy, the production of cold sauces and the packing of milk powder.
And, in another of the year's stand-out deals, Irish convenience food group Greencore announced it was selling its US operation to an affiliate of Hearthside Food Solutions for $1.07bn.
Greencore had built its business in the US market over the last decade, largely through M&A, but in March it announced a major shake-up of its US operation including the restructuring of its leadership team.
Meanwhile, another Irish group – dairy and sports nutrition business Glanbia – agreed to buy slimming brand SlimFast for $350m from owners KSF Holdings and HNS Intermediate Corp.
In November, Kraft Heinz revealed it was is selling its Canadian natural cheese business to Italian dairy company Parmalat, owned by French dairy group Lactalis, for $1.23bn.
The US food company said the agreement included the sale of cheese brands Cracker Barrel, P'tit Quebec and Amooza in the Canadian market.
Kraft Heinz also made a couple of acquisitions during the month. It paid around $200m for Primal Kitchen, a US maker of condiments and snacks, as part of the ketchup giant's bid to work with or acquire brands that "disrupt the food industry". And it announced the launch of a new digital hub after acquiring Wellio, an AI food tech company based in San Francisco.
PepsiCo, meanwhile, was expanding its snacks portfolio with the purchase of UK crisp brand Pipers. The deal, which remains subject to clearance from the UK competition watchdog, came less than a week after it announced the purchase of US-based "superfood" snacks maker Health Warrior.
In December Mondelez International revealed it was selling a clutch of cheese assets in the Middle East and Africa to European dairy giant Arla Foods.
Castello owner Arla has agreed to buy Mondelez's Kraft-branded cheese businesses in the region but the deal does not cover Mondelez's cream cheese brand Philadelphia or its cottage cheese brand Jocca.
Mexican hot sauce company Cholula, meanwhile, moved into new ownership when it was acquired by US private-equity business L Catterton.
It was previously backed by a group of investors including Mexican tequila producer Jose Cuervo.
And to end the year with a bang, Unilever emerged as the winner in the battle to acquire the India-based Horlicks malt drink brand and other consumer nutrition products from GlaxoSmithKline (GSK), confirming a $3.74bn deal.