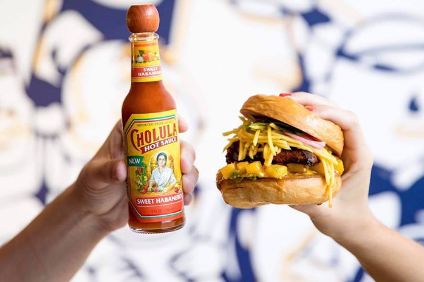 As this year has been dominated by Covid-19, it is impossible to examine M&A activity in the global food industry without doing so through the prism of the virus.
For every company with deep pockets looking to pick up bargains during a turbulent period, there have been those who have had to consider a sale against the threat of an uncertain future.
The logistics of doing a deal have not been easy. Social-distancing measures have made carrying out due diligence on target businesses more difficult.
Shaun Browne, a food M&A specialist at London-based advisory firm Houlihan Lokey, told just-food recently: "It's been harder this year to sell businesses wherever they are to international buyers because of the difficulties of travel."
But some dealmakers, including Browne, have talked about being as busy as they can remember.
In September, another UK advisory firm Oghma Partners, reported that UK food and beverage deals were down markedly during the Covid period but, as we will see, there was a surge in activity in the final quarter of the year.
Not that any of this could have been predicted back in the pre-Covid halcyon days of January, of course.
It was US firms that got off to the fastest start in the M&A stakes at the start of the year.
Food major Conagra Brands sold the Lender's Bagel business to Bimbo Bakeries USA, a unit of Mexican bakery group Grupo Bimbo, for an undisclosed sum, while meat heavyweight Tyson Foods sold its Golden Island Jerky business to meat snacks specialist Jack Link's. And TreeHouse Foods announced it was offloading bakery assets to local peer Rich Products.
It was assumed at that stage that portfolio rationalisation amongst US food majors would be a key component of the M&A year.
What also became apparent in January was that vegan and cell-based meat and seafood businesses were proving highly attractive to investors.
Dutch cell-based business Mosa Meats and US peer Memphis Meats both announced investment backing during the month as did US plant-based seafood firm Gathered Foods, which owns the Good Catch brand.
In February, the last month of normality before Covid-19 became a truly global pandemic, the propensity to invest in emerging trends continued, with dairy majors backing Israel-based dairy-free yogurt start-up Yofix and California-based alternative-meat business Alpha Foods winning backing in a "lucrative" funding round.
Meanwhile, the struggle for survival in the highly competitive US dairy market was brought home when Dairy Farmers of America announced it would be buying a substantial portion of local peer Dean Foods, which had filed for Chapter 11 bankruptcy protection in November 2019.
Brazilian meat giant JBS flexed its global muscles with the news it was to acquire US peer Empire Packing Co., for US$238m.
And the month ended with US-based Green Giant brand owner B&G Foods spreading its wings into new, innovative, growth categories with the announcement it was to acquire local vegan food manufacturer Farmwise, while food majors had on eye even further into the future by backing US cell-based seafood firm BlueNalu.
In March, other trends came onto the food M&A radar when US cannabis confectionery firm Bluekudu was acquired by retailer Curaleaf, and high-protein specialist Powerful Foods was backed to the tune of $5m by investment firm MMG Equity.
Food and beverage behemoth PepsiCo's long-running attempt to buy South Africa's Pioneer Foods finally cleared its final regulatory hurdle this month. The acquisition had been announced in July last year.
US food group Hain Celestial continued its portfolio rationalisation programme by disposing of its Casbah and Europe's Best brands, while organic baby food maker Nosh Foods, also of the US, was acquired by private-equity (PE) firm Grays Peak Capital for an undisclosed sum.
April was a relatively quiet month in food M&A terms, perhaps as businesses sat back to reflect on what the Covid pandemic might mean for their future.
But Anglo-Dutch consumer goods giant Unilever finally completed its acquisition of Horlicks and other nutrition brands from GlaxoSmithKline some 16 months after the companies announced the deal.
And nothing seemed to slow down the investment opportunities people saw in plant-based businesses. US-based alt-meat firm Rebellyous Foods raised $6m in a funding round, while the UK dairy-free business The Coconut Collaborative received $27m in investment funds from US private-equity firm PowerPlant Ventures.
Investors were also quick to spot the potential of meal-kit firms, which deliver direct to the consumer, especially important during a period when supermarkets were fighting to keep the shelves stocked and people were working from home and doing more cooking. UK-based Gousto raised $41.2m in a funding round.
In May, things were still pretty quiet.
US confectionery giant Hershey sold its Krave jerky business to Sonoma Brands for an undisclosed sum. It was something of a homecoming as Sonoma founder Jon Sebastiani created the Krave brand in 2009 before selling it to Hershey six years later.
Eight Fifty Food Group, the UK meat and seafood business created last year by the combining of Karro Food Group and Young's Seafood, made its first acquisition by snapping up Irish meat products group MM Walshe Holdings.
Paris Hilton was amongst the celebrities to take part in the latest funding round for US faux seafood business Gathered Foods.
Canadian meat processor HyLife took a controlling stake in US peer Prime Pork.
And German chocolate maker Alfred Ritter bought the Austrian assets of confectionery major Mars.
In June, Nestlé confirmed it was to sell its Buitoni pasta brand in North America to PE firm Brynwood Partners, adding to its disposals in recent years.
Meanwhile, US food giants Tyson and Kellogg were looking to the future by contributing to a funding round for MycoTechnology via their venture capital arms. MycoTechnology provides ingredients for food and drink products using mushrooms as a base.
After its disposal, Nestlé was also looking to the future by taking a majority stake in US nutrition business Vital Proteins, which makes supplements and food and drink products using collagen, while PepsiCo took a stake in London-based cereal and dairy-free beverages maker Rude Health.
Two UK investment-backed businesses specialising in Asian-style foods, TRS Foods and East End Foods, joined forces to create a new entity – Vibrant Foods.
In the US, another distressed dairy business, Borden Dairy Co., was broken up after a bankruptcy court cleared investors Capitol Peak Partners and KKR to buy its assets. Borden had filed for Chapter 11 protection in January.
In July, the newly-formed Vibrant Foods wasted no time in making its first acquisition, snapping up UK peer Cofresh Snacks, known for its Indian-style snacks, for an undisclosed sum.
French dairy giant Danone was looking to expand in China through the acquisition of the Murray Goulburn dairy business there from Canadian peer Saputo. It gave Danone its first production facility for infant-milk formula in the country.
Danone sought product-type growth as well as territorial expansion later in the month when it led an investment round in US-based allergy-fighting firm Ready, Set, Food.
Back in Europe, French poultry firm LDC agreed a deal to buy local peer Ronsard, while the UK's William Jackson Food Group sold its healthier-for-you brand The Food Doctor to distributor Euro Food Brands.
August saw Spanish food business Pastas Gallo complete its first deal since being bought by PE firm ProA Capital. It acquired local Asian-style ready-meals business Ta-Tung for an undisclosed sum.
UK food-to-go product supplier Samworth Brothers was also looking to grow. It picked up the Urban East sandwich business from the now defunct Adelie Foods. Adelie had entered administration amidst the havoc caused to the foodservice channel by Covid-19.
US meatless burger business Impossible Foods raised $200m in its latest funding round as the desire to tap into the upward momentum of plant-based food continued unabated.
European businesses seeking growth in new areas included Belgium's Lotus Bakeries, which invested in US corn snack maker Love Brands, and Germany's Dr. Oetker, which invested in Plant Jammer, a Danish start-up that has developed an AI-powered recipe assistant for home cooks.
South Africa's Tiger Brands, meanwhile, revealed it was selling its processed meats business to two local companies – Molare and Silver Blade – for a combined $247m.
In September, the ever-acquisitive Canadian food business Premium Brands announced it had snapped up local businesses – Global Gourmet Foods and Allseas Fisheries – for a combined $106.8m.
Nordic food group Orkla, meanwhile, was looking to the east for growth prospects. It took a majority stake in India's Eastern Condiments.
Nestlé, the world's biggest food company, continued to see value in environment-friendly initiatives by backing US plastics recycling initiative Closed Loop Leadership Fund. It invested $30m in the venture.
And a deal between two food majors – a relative rarity in 2020 – took place this month when French dairy business Lactalis struck a deal to buy a clutch of cheese brands in the US from Kraft Heinz. Lactalis said the $3.2bn acquisition would double its sales in the country.
UK-based kids' healthy meal maker Kiddyum, another victim of an unforgiving year, was rescued from litigation by local potato supplier Albert Bartlett.
In the US, recently-listed snacks maker Utz flexed its muscles by buying the assets of local filled-pretzel business H.K. Anderson from Conagra Brands.
October saw more activity linked to emerging trends when US investor Rosewood bought local functional food business Living Ecology for an undisclosed sum. And Netherlands-based food business Wessanen snapped up German organic soups and snacks firm Little Lunch.
In a deal that caught the eye, UK-based 2 Sisters Food Group sold a large part of its Fox's Biscuits business to Italian confectioner Ferrero for $317.8m. The Nutella owner did the deal through an affiliate.
In another deal involving well-known US brands re-formulating their portfolios, B&G Foods revealed it was to acquire the Crisco cooking oil and shortenings business from local peer J.M. Smucker for around $50m.
As already mentioned, direct-to-consumer (D2C) operations have done well during the pandemic with so many people being stuck at home, something which was surely in the thinking of Nestlé when it bought the US e-commerce meal delivery firm Freshly. It had held a 16% stake in Freshly since 2017 and now valued the New York-based business at $950m.
November saw a real ratcheting up of activity in food M&A but the same trends seen throughout the year were still discernible.
US alt-meat start-up Meati Foods raised $28m in a Series A funding round as the noise around plant-based businesses continued to make itself heard. The round was led by Acre Venture Partners.
Re-shaping portfolios continued amongst the US majors with private-label giant TreeHouse Foods announcing it was to acquire the US branded pasta business owned by Spain's Ebro Foods for $242.5m.
Big news emerged in the UK where, after much speculation over its future, the 134-year-old bakery business Hovis was sold by The Gores Group and Premier Foods to PE firm Endless for an undisclosed sum.
Nestlé continued to keep its eye on D2C after its acquisition of Freshly. Now it snapped up UK recipe-box firm Mindful Chef.
Another eye-catching deal, or rather two, in the UK saw French PE firm PAI Partners buy both savoury products supplier Addo Food Group and anti-pasti-to-pickles supplier Winterbotham Darby to create a new chilled foods business.
Back in the US, confectionery heavyweight Mars, which had acquired a 16% stake in local snacks business Kind three years earlier, took full ownership of the business for an undisclosed sum.
And in one of the stand-out US deals of the year, and a rare case of one well-known business buying another, spices and sauces firm McCormick, which owns the Frank's RedHot sauce brand, announced it had acquired the local hot sauce business Cholula in an $800m deal. The vendor was PE firm L. Catterton.
Unilever beefed up its health and wellness credentials by acquiring the US-based SmartyPants Vitamins.
And finally, another of those possible deals that attracted much speculation and links to multiple potential buyers was finally settled when Australia's Lion Dairy & Drinks was acquired by local peer Bega Cheese in a $393.2m transaction.
A deal had been agreed earlier in the year with the China Mengniu Dairy Co. but it hit the buffers amid strained relations between Australia and China.
December opened with investment firm Credit Suisse predicting that the portfolio shake-ups at US food businesses would continue and, as if on cue, Weetabix owner Post Holdings revealed it was buying the Peter Pan peanut butter brand from local peer Conagra Brands.
In Australia, Freedom Foods Group, which had been consumed by financial difficulties for the second half of the year, announced it was selling its cereal and snack business to local per Arnott's, which is owned by US PE firm KKR, for $15.2m.
Like Mars with Kind, fellow confectioner Ferrero was looking towards a future focused on healthier snacks when it announced the acquisition of UK bar maker Eat Natural, its second sizeable UK deal of the year after Fox's Biscuits.
And as we were all getting ready for the seasonal Christmas break, Ireland's Valeo Foods, which is owned by PE firm CapVest Partners, announced it had bagged a deal for UK snack maker It's All Good.
To end with one to look out for in 2021, Swiss-Irish bakery business ARYZTA – which supplies burger buns to McDonald's – announced late in the month that it has turned down a takeover offer from investment firm Elliott Advisors (UK) but it confirmed it is to divest its North and Latin American divisions.